SOCIETY FOR WOMEN WITH AIDS IN AFRICA SIERRA LEONE CHAPTER (SWAASL)
SWAASL is an independent, voluntary and non-profit making organization launched in 1990 by the National AIDS Control Program. It is part of the Society for Women and AIDS in Africa, a regional movement set up to respond to the AIDS pandemic. SWAASL provides information and counseling to women, youths and sometimes men with HIV and AIDS. It collaborates with and cooperates with other organizations both nationally and internationally. SWAASL is one of the leading organizations in HIV and AIDS advocacy in Sierra Leone.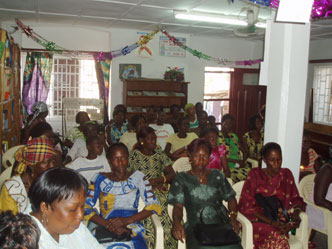 CAMP WOMEN
Camp Women is a grass roots organization located in Sierra Leone, West Africa. Camp Women provides technical and vocational education to young girls and young women in war-torn Sierra Leone. Specifically, they provide creative arts skills such as Batik, gara tie dyeing and basket weaving. The young girls in this program participate in literacy and numeracy programs. Camp Women developed its curriculum on technical and vocational skills with a focus on ensuring self-reliance. Young girls also learn catering, tailoring, fashion design, cosmetology, hair care, community development and micro enterprise development. These skills are vital in their their struggle to fight poverty and contribute to development of their communities.
DEVCONIA Devconia is an internationally known company that provides practical business-focused solutions to complex cultural and socioeconomic challenges faced by small companies and organizations in developing countries. It helps these organizations succeed in emerging markets while improving livelihoods in the communities they operate, consistent with good sustainability practices, which in turn advances corporate brands and enhances shareholder value.