Maternal Mortality
In Sierra Leone, 1 in 8 Women Die Giving Birth
Fatmata Jalloh died a few hours after this photo was taken. She was eighteen years old. Fatmata's official cause of death was postpartum hemorrhaging. She bled to death giving birth in a part of the world where every pregnancy is a gamble - Sierra Leone.
More than 500,000 women per year across the globe die in childbirth. Most of these deaths, like Fatmata's, occur in the developing parts of the world, and most of these deaths are preventable. Some women die simply because they are too poor to pay for hospital services: for example, before a caesarean section or other surgery can start, the patient's family must hurry out and buy medications, intravenous fluids and bags, catheters, blood for transfusions and surgical gloves for the doctors and nurses. But most families in Sierra Leone live on less than a dollar per day. They cannot afford these items. So, in most of these cases, their loved ones die.
Rebuild A Nation's current project provides a medical assessment along with the distribution of nutritious supplements and pre-natal vitamins based on that assessment. In addition to much needed pre-natal care, Rebuild A Nation will provide a safe location for pregnant women to stay to reduce the risks of death during when labor begins and after they have delivered their babies. Our team of health experts will work in the most rural and remote area of Sierra Leone: KOINADUGA, where access to health facilities is practically non-existent.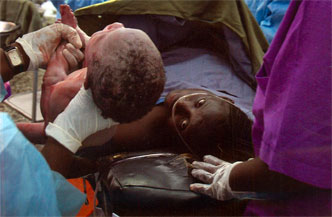 Source: Photographer Carol Guzy